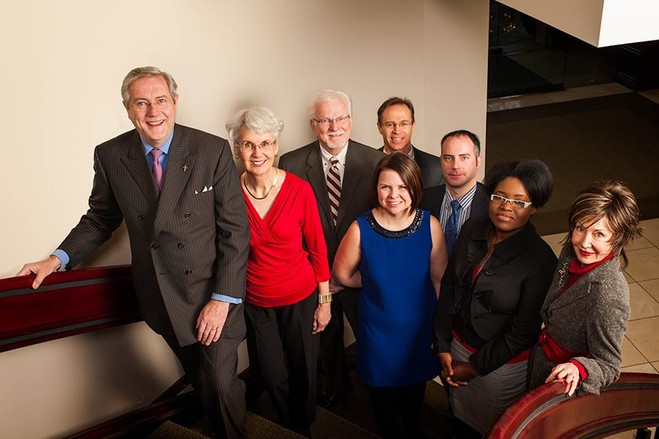 May 2012 - Conrad Pearson & Jerry Tucker, of Pearson Financial Group, were honored to be included in a select group of wealth managers that received the 2012 Five Star Wealth Manager distinction. The recognition could be seen in the May, 2012 edition of Portland Monthly. Having also won the award in 2011, this is the second consecutive year that Conrad received the recognition and Jerry Tucker's first.
May, 2011 - Conrad Pearson was honored to be included in a select group of wealth managers that were given the 2011 FIVE STAR Wealth Manager designation. Only 4 percent of the 7600 wealth managers in the Portland area were chosen. The selection process was rigorous and included surveys derived from more than 59,000 households (1 in 4 high-net-worth families in the greater Portland area).
Next, each wealth manager was reviewed for regulatory actions and customer complaints as reported by FINRA, the SEC, the State Board of Accountancy and the State Bar.
We know our success is due to the long-term relationships we have built with our clients, whose loyalty and trust made this award possible. It would be our privilege to welcome you into our client family.
August, 2008 - Barron's Magazine hosted Conrad Pearson and many of the Top 100 Independent Financial Advisors at the Barron's Winner's Circle Top Independent Advisors Summit. The Top 100 Independent Financial Advisors were ranked in Barron's August 18, 2008, issue.
---
January, 2006 - Conrad was recognized by Research Magazine, as one of the "Top Ranked Advisers in America." Each advisor in State-by-State Winners Circle rankings was filtered from a list of over 7,000 nominations which included securities firms, banks and independent firms. The Winner's Circle team vetted each advisor through a host of quantitative and qualitative criteria, ranging from assets managed, revenue produced, experience levels, acceptable compliance records and U4 forms, as well as discussions with management.
*Third-party rankings and recognition are no guarantee of future investment success and do not ensure that a client or prospective client will experience a higher level of performance or results. These ratings should not be construed as an endorsement of the advisor of any client nor are they representative of any one client's evaluation.